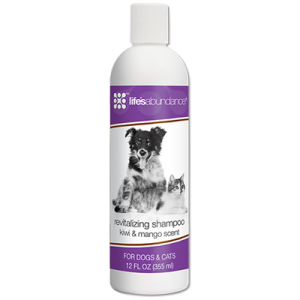 Revitalizing Shampoo
for Dogs & Cats
Pamper your precious pet with Revitalizing Shampoo. The revitalizing botanical infusion of organic rosemary and sage along with nourishing essences of coconut and palm kernel oil will naturally cleanse and beautify your pet's coat as the luscious scents of mango and kiwi mingle with energizing citrus notes to bring out natural shine. Its moisture activated odor-fighters react immediately to absorb and neutralize tough pet odors.
 Ear Care Formula
Cleans ears and eliminates odor, dissolves ear wax and removes dirt and debris by bringing it to the surface. Ear Care Formula dries the ear but don't worry, there's no alcohol. It also soothes the ear during application and long after.
Bath Fresh Mist
A rich and potent conditioning mist naturally infused with a harmonizing blend of certified organic herbal extracts, pure plant botanicals and natural fruit extracts that assists with detangling as well as nourishing the coat's natural condition, leaving it soft, luxurious and delicately fragrant. Rinse Free Formula