It's great to hear back from many of our customers. We appreciate the feedback as it always continues to help us provide top-notch puppies! We take pride in socializing the puppies before they leave our house so they are ready for their new loving homes. We hope you enjoy a sampling of the comments!
"I hope all is wonderful. The girls are doing great, we never know what to expect from them each day. They fight and wrestle, and in the next moment are sleeping nose to butt. We are having so much fun with them."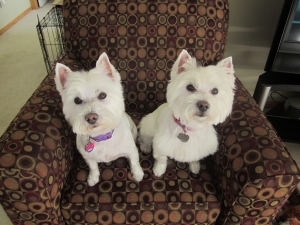 "I wanted to wish you and yours, a Very Merry Christmas and a Happy New Year. Miss Digger is doing wonderful, she's a sweetheart. She likes to watch TV when animals are on it. Thank you very much for such a loving dog."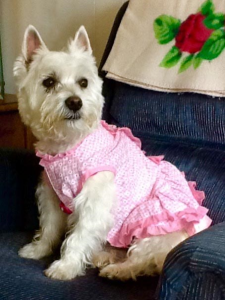 "Here's a picture of Yodah. We love Yodah very much and he is a big part of our lives."
"I was just online looking at your new pug puppies and wanted to share a picture of Yodah. We purchased him from you in 2004. Our "first baby" just turned 11, and is a very loved member of our family. 11 years and three kids later we all love Yodah very much!  Thank you, Jordan"
"The puppies are loving it here, getting into everything. Now that it's starting to get hot, the girls love going swimming in our duck pond. They are very adventurous, and their hunting skills have really shown, as they are always catching mice."
"I was just writing you to tell you how much of a joy he is to have…everyone loves him. We even have neighbor kids coming over daily just to see him. We named him Sammy and he is very energetic and just a blast to have. Anyway, I just wanted to thank you for your kind help and great services."
"I just wanted to share some pictures of "Guinness" with you. He is 1 now and we have enjoyed his energy and outgoing personality a ton. He has been a great addition to our house! Thanks for doing such a great job."
"Just a quick note to let you know how much we are enjoying our new little girl. Sadie received her shots and had her first exam. He said she weighs 6 pounds and is in excellent condition. She has taken over the house, and has even won over our border collie Jake. Thanks again."
"We thought you would enjoy a little update on Oliver on his birthday. He is so loving and playful. I attached a few photos.  We cannot be any more thankful for him. Hope you are doing well. 🙂
Abby."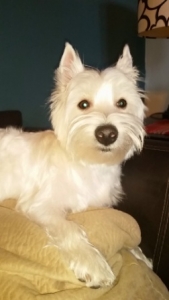 "Zoey has made it to five months. She is quite the bundle of joy. She is the wildest Westie we've ever had. All she wants to do is play. Very happy puppy. Very happy owners. Hoping all is well with you and your family. Don and Jeannine"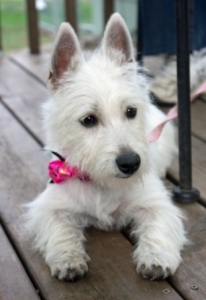 "Hi Jenny, the girls are so happy and fun. Gracie likes to sleep on her back. Thank you for such beautiful Westies. Hugs Jennifer"
Hope you enjoy the many pictures that our families have sent back.  Thank you!!