It's great to hear back from many of our customers. We appreciate the feedback as it always continues to help us provide top-notch puppies! We take pride in socializing the puppies before they leave our house so they are ready for their new loving homes. We hope you enjoy a sampling of the comments!
"I hope all is wonderful. The girls are doing great, we never know what to expect from them each day. They fight and wrestle, and in the next moment are sleeping nose to butt. We are having so much fun with them."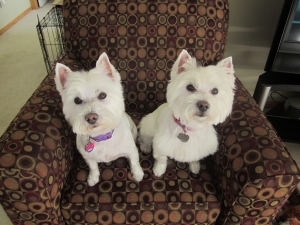 "I wanted to wish you and yours, a Very Merry Christmas and a Happy New Year. Miss Digger is doing wonderful, she's a sweetheart. She likes to watch TV when animals are on it. Thank you very much for such a loving dog."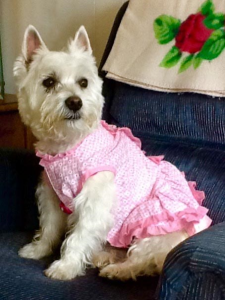 "Here's a picture of Yodah. We love Yodah very much and he is a big part of our lives."
"I was just online looking at your new pug puppies and wanted to share a picture of Yodah. We purchased him from you in 2004. Our "first baby" just turned 11, and is a very loved member of our family. 11 years and three kids later we all love Yodah very much!  Thank you, Jordan"
"The puppies are loving it here, getting into everything. Now that it's starting to get hot, the girls love going swimming in our duck pond. They are very adventurous, and their hunting skills have really shown, as they are always catching mice."
"I was just writing you to tell you how much of a joy he is to have…everyone loves him. We even have neighbor kids coming over daily just to see him. We named him Sammy and he is very energetic and just a blast to have. Anyway, I just wanted to thank you for your kind help and great services."
"I just wanted to share some pictures of "Guinness" with you. He is 1 now and we have enjoyed his energy and outgoing personality a ton. He has been a great addition to our house! Thanks for doing such a great job."
"Just a quick note to let you know how much we are enjoying our new little girl. Sadie received her shots and had her first exam. He said she weighs 6 pounds and is in excellent condition. She has taken over the house, and has even won over our border collie Jake. Thanks again."
"We thought you would enjoy a little update on Oliver on his birthday. He is so loving and playful. I attached a few photos.  We cannot be any more thankful for him. Hope you are doing well. 🙂
Abby."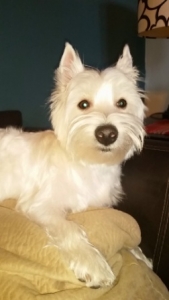 "Zoey has made it to five months. She is quite the bundle of joy. She is the wildest Westie we've ever had. All she wants to do is play. Very happy puppy. Very happy owners. Hoping all is well with you and your family. Don and Jeannine"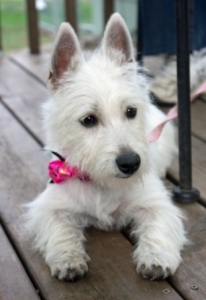 "Hi Jenny, the girls are so happy and fun. Gracie likes to sleep on her back. Thank you for such beautiful Westies. Hugs Jennifer"
Hi Jenny,
I'm wondering if all of the pug puppies in the July litter are spoken for. We have Wilma, a pug that we got from you in 2008. She just turned 12 in April and we love her so much. She has been so healthy and a wonderful furry family member. We are thinking we might need a puppy soon.
Hi Jenny,
Figured I'd give you a little update on Buffy. She is still doing so good and we love her so much! The first month she kept us very busy but she has settled in to her new home perfectly! We are both happy that we get a little break from the VET and shots for now 😉 She can't wait to go on little walks with her cute little harness. Buffy has grown about 4 pounds since I brought her home 🙂 She is just the cutest thing ever and I have tons of pictures of her I wish I could share them all! Hope all is well with you and your family! - Jacey
Ben still goes to doggy daycare once a week for socialization and they have been getting tons of walks and time outdoors since Rose has been home more.  Benjamin especially has a way with people, everyone loves  Ben.  I should have had him trained to be a therapy dog, because he just connects with others and has such an amazing calmness about him.  Everywhere we take him people are just drawn to him, and he loves leaning into strangers and giving them "hugs".  Here is a recent picture of him smiling for the camera.  He is such a good boy and we are so grateful to have him! - Trisha
Well, it's been a week now and Zoey is doing just great.  She sure has a personality of her own and is keeping us on our toes. Linda has been doing her best to potty train.  She's only had a couple of accidents in a week.  Here are a few pictures for you.
Linda & Rich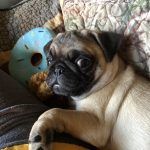 Just wanted to send you some pics. Jerry is doing great. Him and Sugar are best friends and play all day. They go everywhere together. Thanks again. We love having a Westie.

Charlie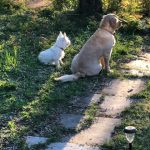 We cannot believe milly is two now!
We think she is part honey badger - always causing mischief!!
She went to the park today—- such a happy girl.  Angela
I hope you guys are doing well! I wanted to send over an update and some pictures of Mia aka Snuggles. She's been such a good girl ever since Saturday! She is such a good listener already, has been behaving well overall with the occasional bites and nibbles when she has a lot of energy but she has more than enough toys that have been keeping her busy!  She's loved playing outside and running around, her fluffy puppy ears are adorable! She does have a tendency to try and eat dirt, plants, flowers, sticks, and leaves.... any suggestions on keeping her from eating anything and everything and biting everything? She has been sleeping really well through the nights. She goes to bed in her kennel just fine and cries for 3 or so minutes before she settles down and goes to sleep. She wakes up one-two times a night with a little cry to go potty and goes right away when I bring her out. She's had only 2-3 accidents a day in the house so far too! We couldn't be happier to have her in our lives and it really feels like she loves us too! Thank you again for such an amazing puppy!! She's taken my whole heart. I've attached some bunch pictures for you guys!  - Kristina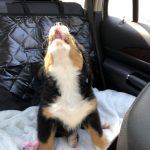 We purchased our puppy from you almost 4 years ago and I had to send the biggest thank you to you for our wonderful Oliver.  He will turn 4 on August 10 and he is the sweetest, smartest and funniest little guy.  We are recent empty nesters and he has helped us transition so much.  You are doing a fantastic job breeding the Best Westies.  P.S.  Oliver summers in the Walker Minnesota area and just had his first airplane ride and winter in Palm Springs last winter.  He is living the good life!  Thanks so much!  Dave, Jan & Oliver
It's been a few years. Thought I'd drop a line. Eva continues to do well! She is quite the traveler. She's been camping about a dozen times, including a 3 night canoeing jaunt through the Boundary Waters. She took a cross-country trip at Christmastime to Key West. She didn't know what to think of the salt water at first, but she acclimated very quickly and loved swimming.   Eva is still a peanut, her weight has leveled off in the mid-7lb range. Her personality is that of a person, and she can communicate so well!  She's the best, and we tell her that daily.  Hope all is well!
Mandy
Hi Jenny,
Reuben is doing really well. We absolutely love him!!! He is doing a great job at sleeping in his kennel all night. We are working on potty training with a bell by the door. Yesterday he rang it for the first time by himself( we only got the bell a week ago). He loves to play, chew his toys and snuggle! We're so happy to have him here. Hope you enjoy the pictures!  Have a happy new year!!!
Kya & Andy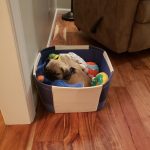 Hope you enjoy the many pictures that our families have sent back.  Thank you!!